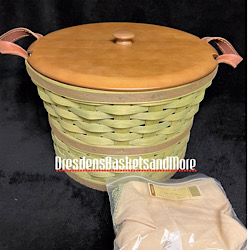 Green Longaberger Medium Bushel Basket Set
August 27, 2022
Home Office Longaberger 10th Anniversary Basket Set
August 27, 2022
Green Longaberger Small Bushel Basket Set
$89.00
Inspired by the all-purpose peck and bushel baskets used by farmers. Leaf Green Longaberger Medium Bushel Basket features a middle band for added strength and durability. It has an inverted open weave bottom which flexes while maintaining the overall shape.
Basket Size:7.5RD 4.75H
2005 Basket Includes Liner, Protector & Lid.
Out of stock